Ayn Rand a Russian-American writer and philosopher. Who wrote two famous and best-selling novels The Fountainhead and Atlas Shrugged. She had developed a new philosophical system. Which she named Objectivism.
Ayn Rand had to be a bit straggled at first. But later many of her novels were included in the list of best-selling. Apart from novels, she has also published some essays.
So let's know about Ayn Rand in detail. And finally, see some of Ayn Rand Quotes which are taken from her novels.
Who Is Ayn Rand?
Ayn Rand was born on February 2, 1905 in Russia's Second Largest City St. Petersburg. Her full name is Alisa Zinovyevna Rosenbaum.
She was from a Russian-Jewish family. Her father's name was Zinovy Zakharovich Rosenbaum who was a mobile pharmacist and her mother's name was Anna Borisovna.
She completed all her education in Russia. Ayn Rand started writing screenplays at just the age of eight. And started writing novels at the age of ten.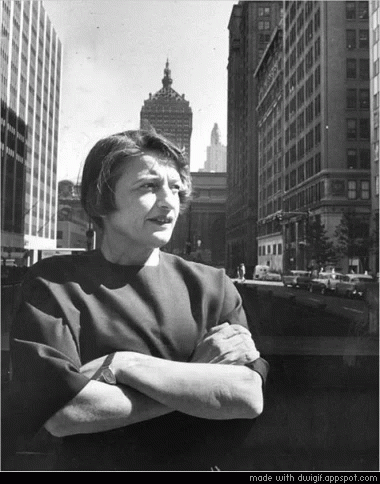 After completing her studies, she moved to America in 1926. There she started writing novels. Unfortunately, the first two of her novels were unsuccessful.
Apart from that, between 1935 and 1936, Ayn Rand worked to write a play on Broadway.
In 1943 ayn rand wrote The Fountainhead Novel. Which became quite famous as soon as it was published. After that rand gained a lot of fame.
She then published her second novel, Atlas Shrugged, in 1957. This novel joined her most famous works.
Also Read: Best Rhonda Byrne Quotes That Explain The Power Of Positive Attitude
Then She published some non-fiction literature to demonstrate her philosophy. And apart from that, she published some essay collections in her own journals. She continued this publication of essay collections till her death.
Ayn Rand promoted romantic realism with her works. And wrote about philosophers and philosophical traditions.
She supported rational and moral egoism in her life. Rand delivered her ideas to the public and academic settings through her literature and novels.
Her ideas had a profound influence on the Libertarians and the American Conservatives.
So let us know the thoughts of this great novelist and philosopher Ayn Rand through some of her quotes.
Ayn Rand Quotes :
The hardest thing to explain is glaringly evident which everybody has decided not to see. ― Ayn Rand
If you feel that something is worth doing, then you must do it. ― Ayn Rand
No human can survive without his mind. Because our brain is our only weapon. ― Ayn Rand
The only goal of our existence is joy. ― Ayn Rand
When a person loses his sense of humor, he loses everything. ― Ayn Rand
In this world, you can either be virtuous or you can enjoy yourself. ― Ayn Rand
Just as every great new invention is condemned, similarly every great new idea is opposed. ― Ayn Rand
Money can take you wherever you want, but there you will have to enjoy yourself. ― Ayn Rand
Productivity is your acceptance of morality. ― Ayn Rand
Government is the most dangerous threat to the rights of man. Because it holds a legal monopoly on the use of physical force against legally deported victims. ― Ayn Rand
The truth is not for all people. It is only for those who want it. ― Ayn Rand
Do not sacrifice this world for those who make it evil. ― Ayn Rand
The lust for power is a weed that grows only in the empty space of the abandoned mind. ― Ayn Rand
Self-respect is something that no one can kill except you. ― Ayn Rand
To kill a man's pretense is the worst thing in the world. ― Ayn Rand
Never think about your pain or danger when you are fighting with your enemies. ― Ayn Rand
Man is just a collection living with chemicals of delusions of grandeur. ― Ayn Rand
A man who does not value himself, can never give importance to anyone. ― Ayn Rand
The basis of a man's sexual choice is the sum of his result and his basic beliefs. ― Ayn Rand
Surrender to truth is the real identity of morality. ― Ayn Rand
There is nothing significant in the world like the human face. ― Ayn Rand
Our ego is our strictest and greatest judge. ― Ayn Rand
The biggest purpose of morality is to teach you to enjoy yourself and live it. ― Ayn Rand
Integrity means the ability to stand by an idea. ― Ayn Rand
Also Read: Toni Morrison Quotes On Love And Writing
If the man who is wrong only accepts the responsibility of choice then he still retains some respect for the truth. ― Ayn Rand
Everyone in the world can be ruled, but there is no way to rule an innocent human being. ― Ayn Rand
If someone tells you that money is evil. So remember that this sentence is the bell of the leper of a looting robber. ― Ayn Rand
People create their own questions because they are afraid of looking straight. ― Ayn Rand
There is nothing like cheap work in the world. Because the work is not inferior but the person doing that work is inferior. ― Ayn Rand
The compromise is like a transmitting rubber tube. ― Ayn Rand
Ayn Rand Quotes on Success :
If you do your work honestly then you do not need the predestined trust of others. ― Ayn Rand
If you do every work thoughtfully then your work can be creative. ― Ayn Rand
Your work itself helps in achieving your values. ― Ayn Rand
Ayn Rand Quotes on Freedom :
Freedom: To ask nothing. To expect nothing. To depend on nothing. ― Ayn Rand
Ayn Rand Quotes on Love :
The love of parasites is never valuable. ― Ayn Rand
We do not love people because they do something for us. We just love them for their values and qualities. ― Ayn Rand
Love is beyond respect, worship and pride. ― Ayn Rand
I think love is like a business deal, but you should also keep in mind that every business deal has its own conditions. ― Ayn Rand
If a man talks with the love most, then understand that he has never felt love. ― Ayn Rand
Patience is always rewarded and romance is always round the corner! ― Ayn Rand
I love you so much that nothing else matters to me, maybe not you either. Only my love matters to me. Neither your answer nor your indifference. ― Ayn Rand
Ayn Rand Quotes on Life :
A man who has acquired wealth dishonestly always harms wealth. And the man who has earned wealth always respects it. ― Ayn Rand
Doing what we want is the hardest thing in the world. ― Ayn Rand
Nothing is impossible for you. Your job is just to choose and to like everything. ― Ayn Rand
In this world the most difficult thing in the world to do what we want. And for this one needs the most courage. ― Ayn Rand
To lose your ambition for values is to lose your ambition to live. ― Ayn Rand
If you do not know your purpose, then understand that your work is the purpose of your life. ― Ayn Rand
Men who reject the responsibility of thought and reason can only exist as parasites on the thinking of others. ― Ayn Rand
The dream of greatness is a man's world where he has made his confession inferior. ― Ayn Rand
Live within the limits of your knowledge and keep increasing it to the limits of your life. ― Ayn Rand
You should not care what people say about you. You should just keep yourself happy. ― Ayn Rand
Those who deny personal rights cannot claim to be the protectors of minorities. ― Ayn Rand
It is not death that we want to avoid, but it is the life that we want to live. ― Ayn Rand
We all start our life with an absolute. But we have to do something so that the world takes shape in the image of our highest values. ― Ayn Rand
Also Read: Best J. K. Rowling Quotes About Inspiration And Life
Learn to distinguish between knowledge of ethics and errors of violations. ― Ayn Rand
Knowledge error is not a moral flaw because you are able to correct it. ― Ayn Rand
Ayn Rand Quotes on Happiness :
Learn to value yourself in life and fight for your happiness. ― Ayn Rand
My happiness does not mean the end. But this is my ultimate goal and objective. ― Ayn Rand
To confess happiness is to stand naked, delivered to the witness. ― Ayn Rand
Ayn Rand Quotes on Reality :
We are free to break out of reality and unfocus our mind. But if we refuse to see the abyss, then we are not free to avoid it. ― Ayn Rand
Whenever I disagree with a rational man, I allow my reality to be the ultimate arbiter. ― Ayn Rand
Rationalization is a process of disregarding reality. But reality can be adapted to one's feelings. ― Ayn Rand
Spread the love :